David & Julia Holloway Vineyard Photos
Toggle your F11 key and it will give you full screen
Wine... a toast to your health!
More below about fruits & veggies, wine health benefits, vines, winemaking and drinkin' in general.
Chambourcin grape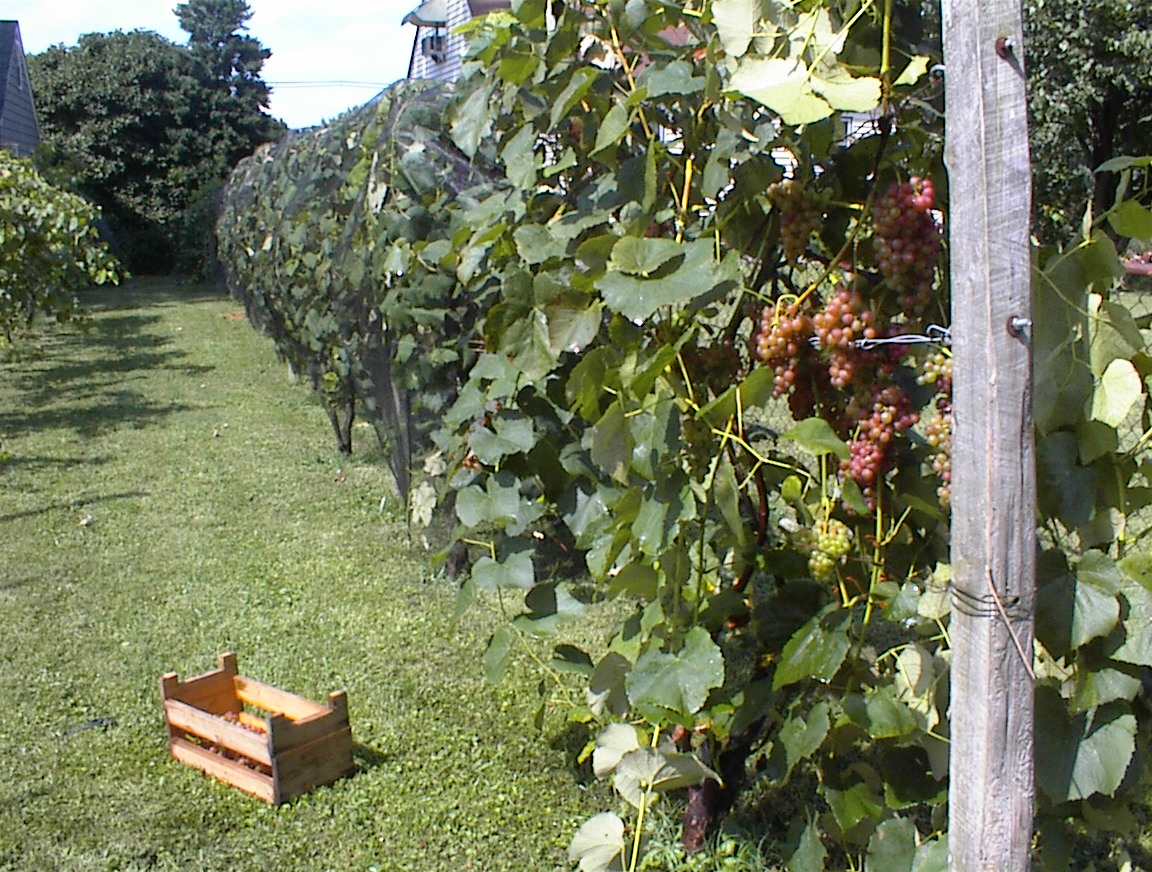 (bird netting on grapes)
Concord Grape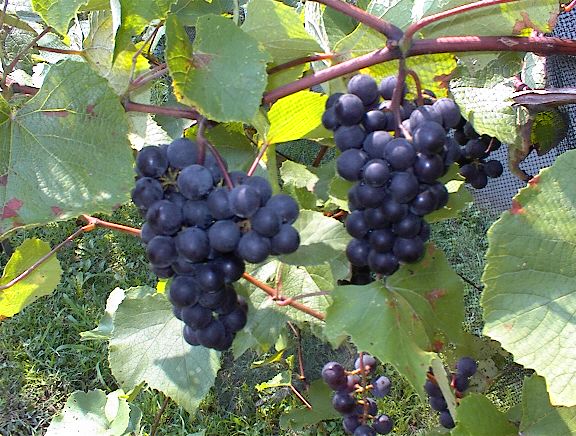 Chambourcin grape (pron. shambursen) - this makes a dark red wine.
wine.

Robbin's nest and Baco Noir grapes.What do you feed your babies?
Leon Millott grapes: (pron. Lay-0n Meeyo)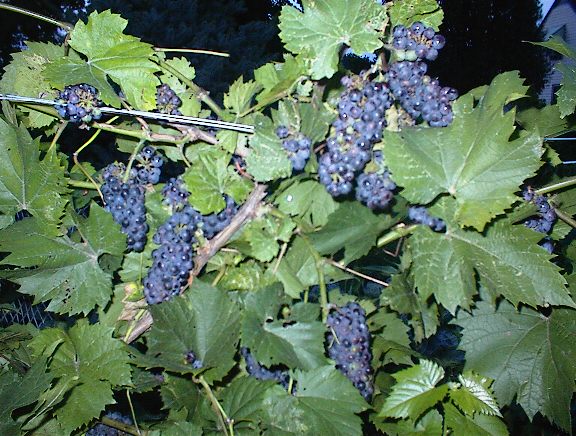 Steuben grapes in baskets
Canadice seedless eating grapes - Seelbach Hotel recommended gourmet
2003 - Steuben grapes in Julia's secret herb garden
Steuben
Pinot Noir Grapes (pron. peen-yoh nwah) - this is the primary Champagne grape and is combined with Chardonnay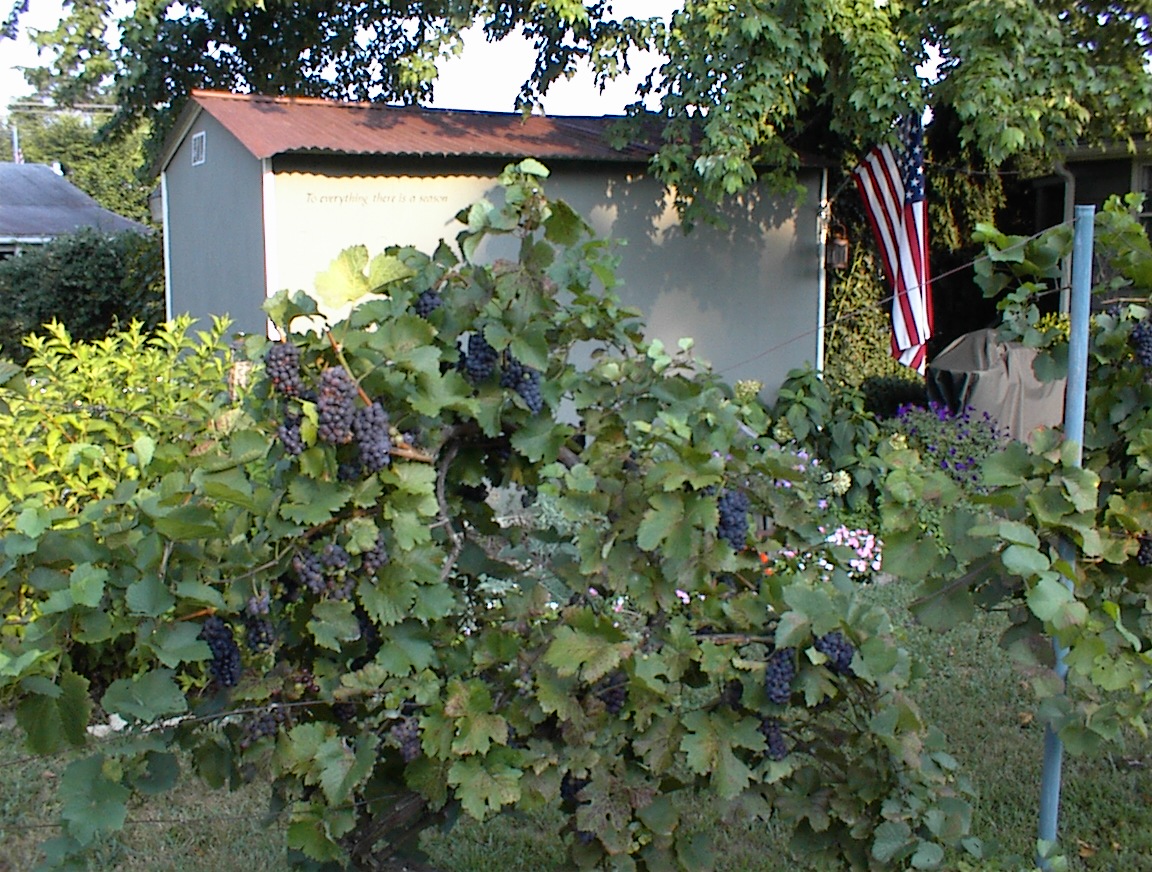 Chardonel Grapes (pron. Shardanel)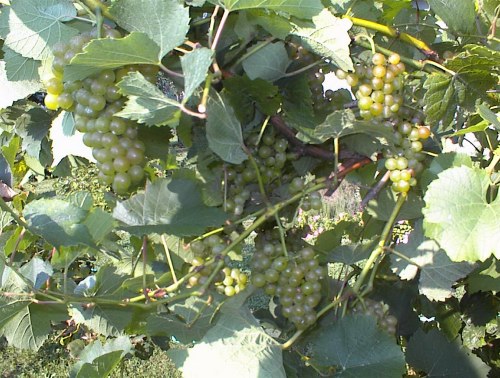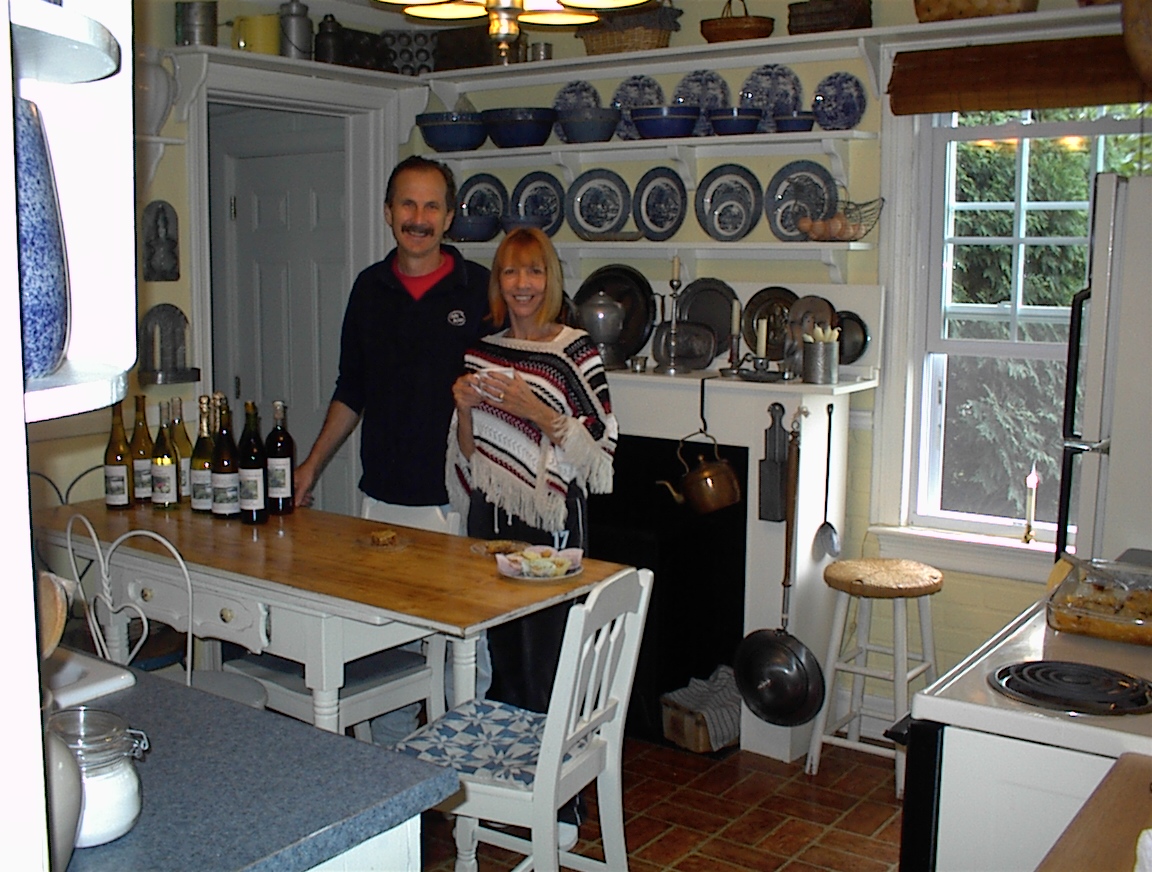 David's & Julia's hobbies are gardening and vineyard care!
Also go to link Julia's Secret Garden that's 'gahden dahling' with over 160 varieties of plants. This 'mahvelous' couple are members of the Kentucky Vineyard Society. Sparkling wine is a feature of breakfast on the weekend. Why wait til your 50th anniversary to celebrate life?
Other fruits & vegetables that David grows:
Asparagus (New Jersey Giant), Beets, Broccoli, Brussel Sprouts, Cabbage, Collards, Elephant Garlic and several other types, Onions, Shallots, Spinach, Swiss Chard, Yard Long Beans, Potatoes (Kenebec, Irish Cobbler, Red), Sweet Potatoes-Beauregard, Heirloom Tomatoes (many varieties), Peppers (Green, Red, Yellow, Purple Bell, Tabasco, Pimento, Sweet Cherry)
Fruit:
Blackberries: (Black Satin and Navajo) Blueberries (several varieties) Cherries Kiwi Nectarine Raspberries (Red, Black Cumberland, Royalty Purple)
Rare and specialty:
Brown Turkey Fig (actually an inverted fleshy flower)
Heart Nut ( a heart shaped Japanese hickory)
Persimmon - var. "Evelyn" seedless
Kousa Dogwood - produces flowers and a small custard like fruit
Saskatoon Berries - actually a "Pome" fruit rather than a berry that was a Plains Indian staple-a gift from God used in their winter food known as "pemmican". Pemmican consisted of animal fat, saskatoons, and seeds, and could be carried in their pelts.
Spearmint - for Mint Juleps during KY Derby time
Stevia - a sugar substitute
Technical Health Benefits of fruits, grapes and wine:
Keywords: polyphenols, flavonoids, antioxidants, tannins, quercitin, resveratrol
Polyphenolic Flavonoids: concentration in
| | |
| --- | --- |
| Red wine = | 1,800 - 3,000 mg/L |
| White wine = | 90 - 150 mg/L |
There are numbers of flavonoids that have been identified in wine from the grape - found in grape juice, white and red wine - most of which are "antioxidants". The flavonoid in the greatest amount is quercetin, which composes 60% of all the flavonoids in wine. Other flavonoids in red wine e.g. caffeic acid have greater antioxidant effect but are in small amounts. Other flavanoids, particularly resveritrol and ipicatechin are also found in red wines and not in white wines.
As red wine is fermented with the grape skin, red wine contains additional flavonoids called procyanidins (tannins) whose absorption is facilitated by the 5-11% alcohol.
Categorically the flavonoids decrease the oxidation potential of LDL and its uptake by macrophages.
Most flavonoids decrease eicosanoid synthesis. Specifically red wine has been shown to decrease concentration (inhibits synthesis) of thromboxane B2. Overall the decrease in eicosanoid metabolism decreases thrombaxane and increases prostacyclin.
Most flavonoids increase the formation of EDRF (endothelium-dependent relaxation factor) or NO. The vasorelaxation effect of red wine seems to be mediated by an increase in cyclic GMP resulting in vascular smooth muscle relaxation.
Polyphenols from red wine induced cytochrome P450 concentration in the liver.
Non-Flavonoids in Red Wine:
Vitamins - Red Wine is a fairly good dietary source of folic acid, biotin, pyridoxine and niacin.
Minerals - Red Wine is an excellent dietary source for potassium 528 mg/16oz.; magnesium, phosphorus, calcium and iron.
Stibenes - one study demonstrated a decrease in apolipoprotein B from trans-resveratrol (tri-hydroxystilbene) from the skin in red wines.
Serotonin (5-HT, 5-hydroxytryptamine) is released from platelets by most red wines. Amount released may be related to the polyphenol content.
Summary: The cardiovascular benefits of red wine are a result of its alcohol and flavonoid content. Alcohol alone in doses of 20 to 30 gm/day can decrease CHD by 40%. The alcohol content of red wine is responsible for the effective absorption of flavonoids and tannins. Red wine also contains a large amount of folic acid, other vitamins and potassium and magnesium, which have beneficial cardiovascular effects.
Our Music Products | Contact | References | About Us | FAQ | Wine | Women | Song | Trumpets & Crumpets | Julia's Secret Garden | Fun - EStuff | For Sale